Once you have worked through all the symptoms of organizational dysfunction, your team will be focusing on results, rather than fear over their jobs or team interactions. If your team seems inattentive to the group's results, you may still have some work to do to bring everyone together toward a common goal.
This is the final post in a six-part blog series based on the book The Five Dysfunctions of a Team by Patrick Lencioni. Here are links to the previous posts:
This final blog post will help you understand the last step toward eliminating organizational dysfunction and show you what it looks like when a team is operating based on trust and a shared sense of purpose.
---
Get Help with Leadership, Conflict Resolution, and Business Strategy
Talk to a consultant who can help you make strategic decisions about the future of your business.
---
Organizational Dysfunction Turns Individuals' Attention Away from Team Results
All the symptoms of organizational dysfunction have one thing in common. They cause team members to focus on their own personal results and priorities. When team members don't trust one another, or when they feel unable to raise concerns, they will focus on their own work and their own priorities. In the most dysfunctional environments, they may even focus on doing just enough to stay employed until they can find a different position.
However, even when your team has trust, works through conflict, is committed to its goals, and holding one another accountable, organizational dysfunction can still creep in. Most often, this happens when team leaders elevate individual goals, egos, and performance over the priorities of the team. Selfishness is the opposite of team functioning.
Sometimes this can happen because of the team rewards structure. For example, in sales, individual success can often be rewarded with bonuses or commissions based solely on each team members' conversion rates. This turns the focus off the team and on to individual success, and that can breed competitiveness that will interfere with team productivity.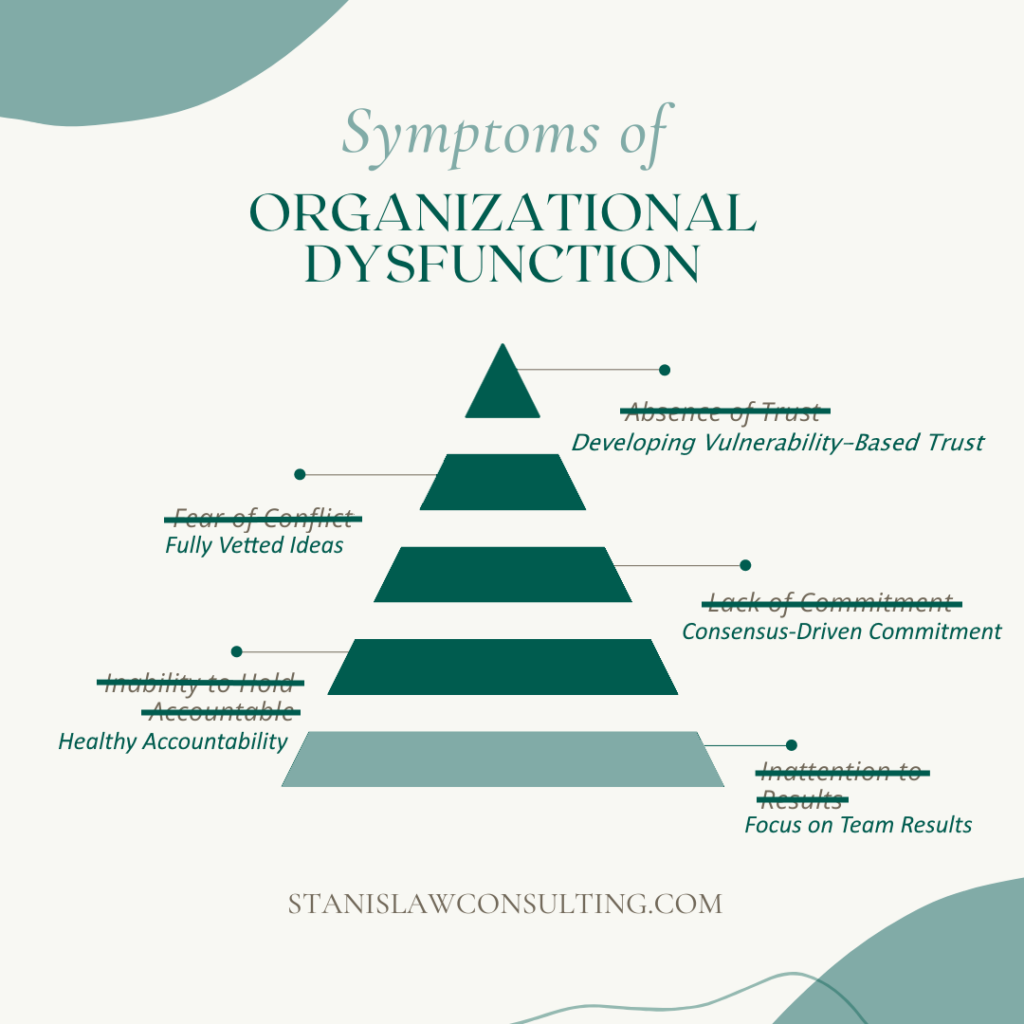 How to Get Team Members to Focus on Results
To get your team to stay focused on team results, the rewards they receive need to be connected to the team's success, not their own. Patrick Lenioni says:
"On strong teams, no one is happy until everyone is succeeding."
This means that if the team isn't winning, then no one wins. This will keep your top performers from acting selfishly and encourage them to assist other team members who may be struggling to meet their marks.
Functional Teams Prioritize Team Success
As you can see, the different symptoms of organizational functioning build on one another to develop a team dynamic based on trust and respect for everyone involved. A fully functional team has developed the trust necessary to take risks and ask the tough questions, even when conflict arises. They will embrace that conflict and work through them to develop clear goals and plans that embrace and address everyone's challenges and ideas. With a team-developed goal in mind, team members will be fully committed to the team's direction and success. When problems arise or someone is not completing their tasks, they will be empowered to offer peer-to-peer accountability and help each other succeed. The team's results as a whole become the focus of each member, allowing everyone to work for and celebrate the group's success.
Get Help Overcoming Organizational Dysfunction to Focus on Results
No matter which symptoms of organizational dysfunction your team is exhibiting, you can take action to remove barriers, develop trust, and move your team toward healthy collaboration. You will need the help of a resourceful and emotionally intelligent facilitator to help you develop new patterns that focus on team success. By addressing each symptom, you can develop a workplace culture that prioritizes productivity and success without the obstacles of ongoing organizational dysfunction.
---
David Stanislaw is an organizational development specialist with over 25 years' experience in resolving organizational dysfunction. Through business consulting and facilitation, David helps businesses and teams improve productivity and team cohesion. Contact us to meet with David to move toward high organizational functioning today.