Organizational consultant, David Stanislaw, is scheduled to present an online interactive workshop, "Leadership Team Conflict: Move Toward Greater Organizational Health" through the University of Michigan, Flint. Get a sneak peak at the contents of this thought-provoking workshop and find out how to register now so you can take your organization forward to healthier collaboration and conflict resolution.
Conflict Resolution Strategies from an Organizational Consultant Focused on Crafting Lasting Solutions
David Stanislaw, founder and principal of Stanislaw Consulting, assists in elevating the workplace experience by enhancing organizational health. David creates real, lasting solutions that result in a more harmonious work environment by uncovering the root causes and solving the people problems that hamper an organization. He resolves workplace conflict, provides executive coaching, and facilitates succession planning. By resolving high-level personnel issues, David enables organizations to get on track to meet their business goals and objectives.
---
Get Help with Leadership, Conflict Resolution, and Business Strategy
Talk to a consultant who can help you make strategic decisions about the future of your business.
---
David will bring all that experience and expertise to UofM Flint on October 13, 2021 from 12:00 to 1:30 pm in an interactive webinar-style workshop designed to move participants in the direction of better organizational health. With plenty of time for questions and personalized attention and application, the goal of "Leadership Team Conflict" is to teach workshop participants:
1. The Difference Between Management and Leadership
Most companies and organizations have managers – people in charge of controlling employees and volunteers and making sure the entities accomplish their goals. But not every manager is a leader. Leaders can influence, inspire, and motivate the people to follow them, pointing them toward professional growth and organizational success. David will explain the difference between management and leadership and provide tips to become a more inspiring leader within your organization.
2. The Six Different Leadership Styles
As an organizational leader, your approach to leadership directly influences organizational health. David will explain the six different leadership styles, and what they mean for your organization, and the teams you lead. He will help you identify your own leadership management style, and explain how each style can affect the overall workplace culture in your organization.
3. The Positive Value of Conflict
Most people assume that all conflict is bad for business. The truth is your organization may be struggling to move forward specifically because you and your fellow leaders are conflict avoidant. In fact, the positive value of conflict comes from your ability to hear your members' concerns, process their feelings and recommendations, and find an outcome that is positive for all involved. David will help you develop strategies to identify and address positive conflict in a healthy way. By inviting transparency in the face of conflict, you can keep members from becoming resentful and help them come to a positive conflict resolution.
4. How to Successfully Address Destructive Conflict in the Workplace
Some conflict may have value, but destructive conflict can interfere with your organization's broader vision and strategic plan. When team members find themselves at odds, you need a plan to successfully defuse the conflict, and bring everyone to consensus on how to move forward. David will provide organizational leaders with a roadmap to conflict management and resolution, helping participants anticipate and address workplace conflict before it can derail your organization's purpose.
5. How to Assess and Score Your Team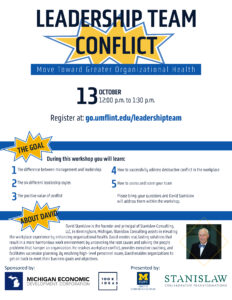 Moving your organization forward takes more than knowledge. You need to be able to assess your team's strengths and their conflict resolution styles so you can help them move closer to healthy collaboration. David will provide you with scoring assessment questions and forms that you can use to understand your own challenges in addressing and resolving disputes. You can bring these tools back to your own team to better conflict resolution. By following the example set in the workshop, you can properly assess your team's conflict resolution strategies, and develop and use that information to move toward greater organizational health
Get Registered for the Leadership Team Conflict Workshop Today
"Leadership Team Conflict: Moving Toward Greater Organizational Health" will occur online through Zoom and the University of Michigan, Flint, on October 13, 2021, from 12:00 p.m. to 1:30 p.m. EDT. This workshop is sponsored by the Michigan Economic Development Corporation and 100k Ideas. There is no cost for this event, but you must be registered to attend. Sign up at go.umflint.edu/leadershipteam.